How much Basil? A lot! This is the 3rd harvest this year and not even mid May (132g fresh basil leaves).
I can't grow anything, I'd don't have a garden. Well thats what I thought. And. I truly sympathise with folk like me, for whatever reason, they don't have space outside to grow things in. My restriction is our climate, I can grow out there but not without shelter, and so far, I don't have any! Many folk don't have the space, or not much time. Anyway there is a bit of a simple solution. Introducing my windowsill allotment! If I can grow stuff up here in the frozen north on a window sill, I'm sure anyone can have a go!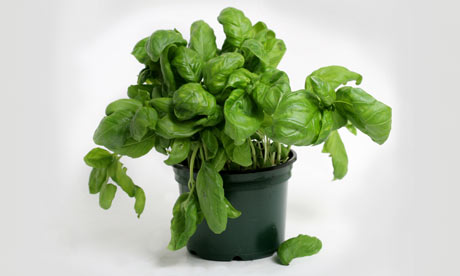 But, I've been experimenting with windowsill growing. And, so far so good its working well. Meet my Basil - don't think he has a name, isn't that bad of me? The poor brute was captive in Lild, but he's come home to live with us and is thriving. Anyway Bargain Basement Basil cost 75p in Lidls on March 9th this year. I've cropped it 3 times. Once when he arrived - then I split (well gently teased him) him into four chunks and planted him into a windowbox. But, a bigger pot would have done. The first time I cut all the largest leaves off, making sure to leave the stem alone, I put a large tub in the freezer and popped the leaves in straight away. Basil freezes beautifully - once frozen it keeps forever and you can use it straight from the freezer or cooking. There it is frozen - doesn't look very different does it? I just use a handful when needed.
They do still have their two for one herbs - I bought this basil for the house and a pot of chives to keep it company. After planting up its had a hair cut (50g leaves) and one in between (120g leaves) and finally last week - I decided it needed another hair cut! Look at it - it couldn't apply for a job in the army with that floppy mopp!
It doesn't look like it minds growing on a windowsill does it? Its very happy - planted in a bit of an old grow bag from last year - its not too hungry a plant - happy thriving away. Maybe its thappy with he view over to Hoy? Or oggling the cushions which match a bit of the rug! Either way it grows brilliantly on a windowsill.
Time for your cut sir, going anywhere nice on your holidays? Do you want the usual, short, back and sides? I'll just trim off the biggest leaves and take the flowers off to keep it focussed on growing, rather than sex - let an annual herb have flowers, set seed (after a bit of rumpy pumpy) its not going to be interested in the slightest in your plans for pesto. It will want a long nice snooze! Keep the flowers off it and it will keep trying to grow for you. More action with less sex!
Is that to sirs liking? Nice and short, airy and good to let the plant grow more leaves for me, hopefully again and again. It happily filled the tray, which is a normal tea tray size. Infact it was a bit much for the tray. Kept spilling over!
You can't really get an idea of scale - but these are large kitchen scissors and a proper tea tray - the basil stack was enormous! Well 132g to be absolutely precise. I have weighed each harvest to see how much my 75p pot of basil will get for me and work out how much I've saved over its life. Its 100g basil for 79p bag of fresh leaves in Tesco. Therefore already I've got over 300g basil from my little pot (75p) savings so far ((79px3)-75p)=£1.62, its actually saved quite a bit and I've got a free plant into the bargain if I think about it like that. Not too bad if we don't charge him any rent eh? Window sill growing does seem to be worth the effort. And fresh basil, inbetween haircuts is amazing!
I've only pinched out the largest leaves and left all the little ones to grow more on each stalk. OK, its a bit skinny mini looking after its hair but - but he's got form for being great a growing quickly!!! Happy back with his view out there. The evidence in the good life lab - 132g basil from one hair cut.
And, now sir time for your winter accomodation in the freezer time to get into a big freezer box - and just popped straight in. I let them freeze in a large tub and either keep it in there until I've no room and then pop it into a bag. When frozen, and popped into a bag - they will crush up easily (if wanted) or left in the box I can grab a handful whole.
Well thats my allotment basil for you - means I get early basil, its made its own money and more - I'll sow some soon - but for those of us with NO greenhouse and NO shelter - until the weather warms up - the windowsill allotment will have to provide. I've got lettuce (1 window box), spring onions (5), tomatoes (20), cucumber (10) and chives (1) on my windowsill. I'm an allotmenteer of sorts. Just more of an arm chair one at the moment!
Once the thesis is ready then I can crack on with getting a bit of my 'outdoor' garden going for food production! One day at a time eh?