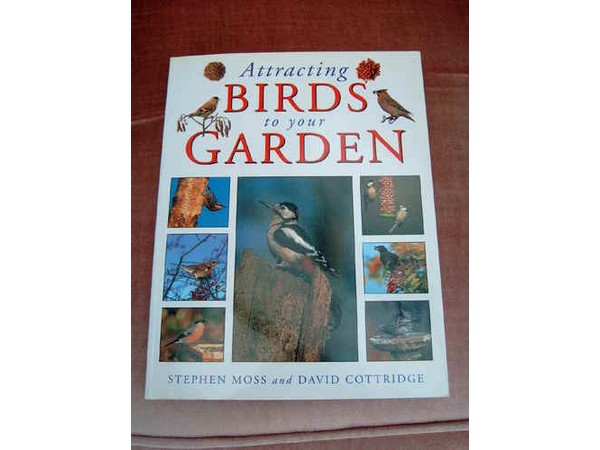 A great book, a bargain 50p find at a local charity shop.
So before taking on such vertical planning, I consulted one of the googolplex of gardening books. I'm ashamed to say I've not counted my gardening books lately, they are good at keeping us insulated here on the bookshelves. The main message was, when trying to garden for wildlife, be it a bird table or planning a bird friendly hedge, plan for your audience - well that was easy - ME! I want to watch the birds on the table, so I'm the audience.
Um, it would appear not, the audience in this particular book, was the birds I was trying to attract. Silly me, well that was a lesson to be learnt. So we put up the table, furnished the surrounding area with a couple of bird friendly trees and some suitable plants in pots and waited patiently. After what seemed like 'seasons' passed, they came. First the starlings, then the sparrows, a pair of collared doves, a cheeky rook and then a Robin popped over to join the party with a Mr & Mrs Blackbird lurking over the past few days. And we now see them on a daily basis, although it took a month or so for them to pop along. How beautiful is that Robin?
Robin photo from the lovely Essex Hebridean, pop over and see some of her amazing photographs.
One thing I do miss in Orkney is whilst we have a stunning array of wild life, woodland and garden birds are not so plentiful. This is probably the 4th Robin I've seen in the 12 years I've been in Orkney, I'm not complaining, we're blessed with sea birds, waders and moorland birds.
So the vertical gardening out there with the bird table has been a roaring success. We built, we waited and they did come! Its been so successful in fact we've branched out into the 'divan' garden out the front (its only slightly longer than a single divan!) and we've put a bird feeder out there. Building on the 'if you wait, wait, wait' they'll use it, and finally they've started to. Only two starlings on there at the moment (certainly not enough for a pie), so I'll just keep waiting to see who else shows up. Hiding whilst washing up, behind the Christmas cactus........
So I'm glad we did build it for them, the regulars and the more exotic migrants! Are you looking after the wildlife in your garden? I wonder who visits you? For now, the table has a regular audience, me the older dog and the younger pup, who takes up residence in the front row!
Haggis keeping watch on the birds outside to make sure they behave.
Must get some sardines in, just in case!